June 2017 - Slow Down
THE SPRING + SUMMER SEASONS ARE A GREAT TIME TO CONNECT WITH THE ART OF RELAXATION - LET YOUR MENTAL VACATION BEGIN! USE THESE HERBAL TOOLS AS A WAY TO NATURALLY TURN DOWN THE VOLUME ON ANXIETY IN OUR FAST-PACED, EVER-CHANGING WORLD.
Grapefruit + Rosemary Shrub- A cocktail shrub is a sweetened, fruit and vinegar based syrup used as an additive to cocktails. Known for a flavor that's both tart and sweet, shrubs stimulate the appetite while quenching thirst. Use this Shrub in a cocktail OR a mocktail, but either way, take the time to craft yourself a signature drink.
My favorite Grapefruit + Rosemary cocktail
Mix gin, shrub, ice, + simple syrup in a shaker. (Amounts really depend on your palette, but generally a 1:2 ratio of alcohol to shrub. Top with sparkling water, garnish with fresh Rosemary.
A great article about the resurgence of Shrubs/drinking vinegars:
LET'S START WITH VALERIAN
Valerian Root (Valeriana officinalis) tincture- A liquid tincture is made by soaking the roots of the herb in alcohol to extract the active compounds. Valerian has long been looked to for it's role in promoting calm, relaxation and a sense of well-being. A Valerian tincture can be mixed into a tea or other type of beverage, swallowed on its own, or even dropped into a hot bathtub full of water for a soothing effect on the skin. In tincture form, a general dosage recommendation is 1 tablespoon, 1-2 hours before sleep.
Please note: In a small number of people, Valerian can act as a mental stimulant...try consuming this medicine when you have time to take note of your natural reaction. Regardless of it's sedative effects, Valerian is a go-to herb for reducing anxiety and it's name derives from the Latin "to be well."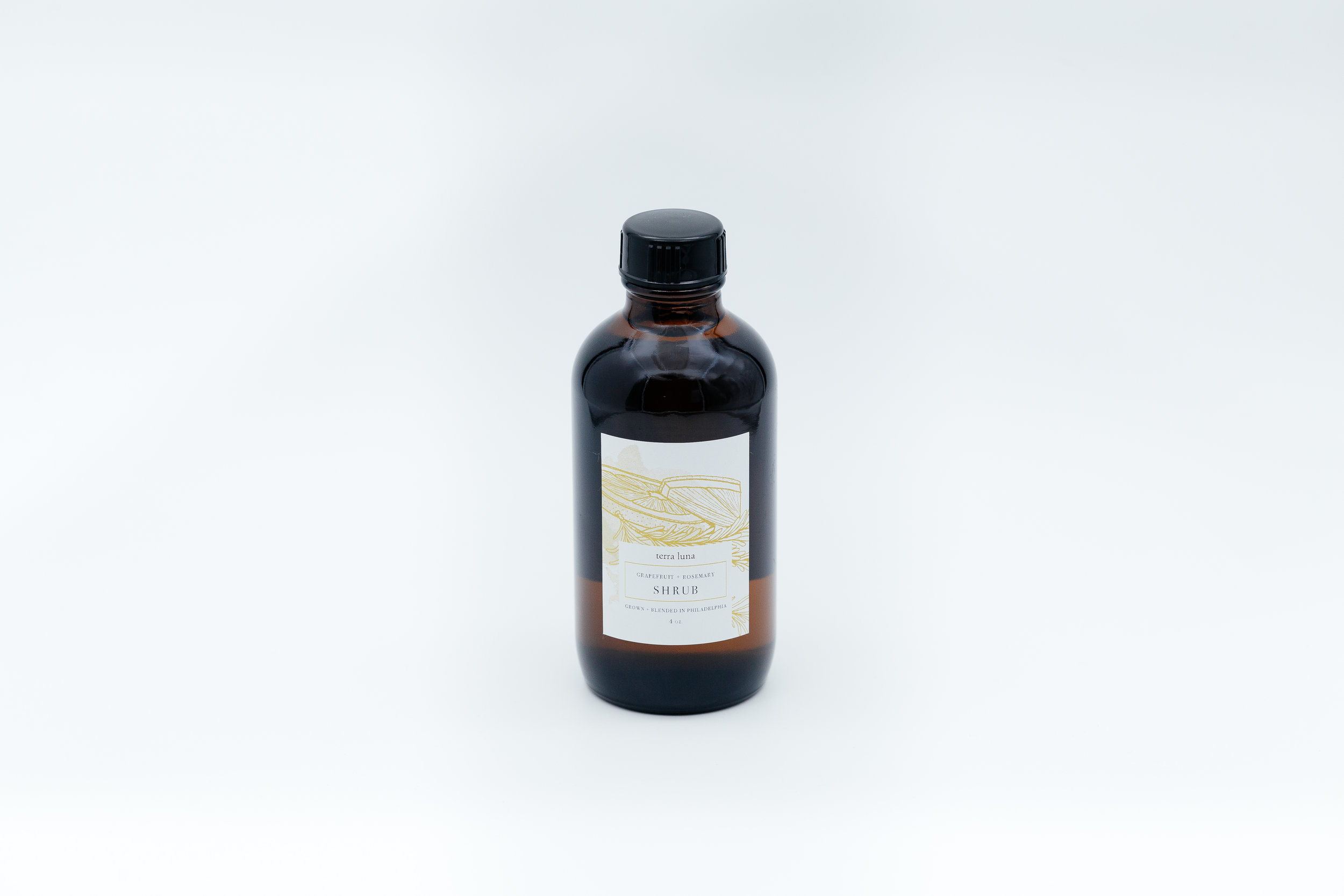 featured shrub: Grapefruit + Rosemary
Munstead Lavender is one of the most fragrant, colorful, and flourishing herbs in the Terra Luna garden. Whether you use it dried or fresh, this flowering herb won't disappoint. Follow the links for usage ideas and recipes!
Culinary Uses:
http://www.bonappetit.com/test-kitchen/how-to/article/cooking-with-lavender
ABOUT: KitchenGardenSeries
Our mission is to provide you with heirloom quality kitchen textiles while supporting Philadelphia's growing urban agricultural movement. We do this by designing and manufacturing our products in our neighborhood and donating a quarter of our proceeds to urban agricultural programs. Our signature look comes from the up-cycled men's shirts and linen that appear in our designs. Using reclaimed materials has the added benefit of reducing textile waste in landfills. Sustainable design supporting sustainable food systems.
_________________________________________________
-Lemon Thyme infused Olive Oil-
Making your own infused Olive Oil is a great way to respect the process of slow food. They can be added to salad dressings, marinades, and sauces. They can also be used to sauté greens, stir-fry, or grill. Herbal oils offer a sumptuous flair to meals when there isn't time to add fresh herbs and spices. Place in a dark cabinet for two to four weeks. Mark your calendar to help remind you to strain.
Strain your oil infusion using any of the following cloths: muslin cloth, tighter weave cheesecloth, cotton gauze fabric, or a clean old T-shirt. Press the oil from the herbal material by wringing out the sticky mass by hand or pressing with a potato ricer or similar kitchen implement. Remember to make sure your hands and implements are clean and dry.
Pour your oil into a sterilized (boil the mason jar from this box, dry thoroughly) and label it. Keep refrigerated to prolong shelf life. Use within two to six months.
_________________________________________________
Soften Your Breath Room Spray- Anytime you feel tense or just need a moment to remember your breathe, spritz the space around you with this healing mist. Lavender grown in the Terra Luna garden inspired this relaxing recipe, a combination of essential oils, flowers essences, and infused vodka, a mix that hits all the senses.