August 2017 - Sunshine
Celebrate the fruits of the Summer with this month's sunshine share. Without sunlight, plant medicine would be nothing, so let's honor the strength and brightness of the Sun and all it has to offer us.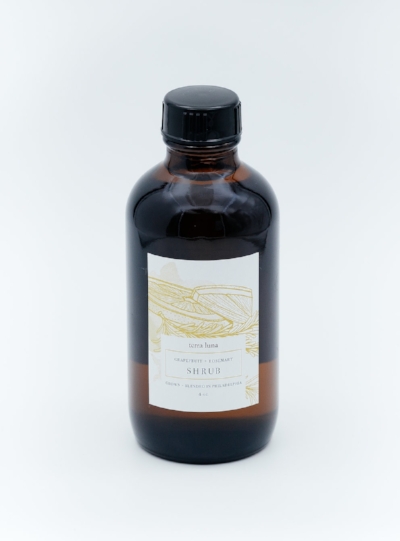 Grapefruit + Rosemary Shrub
Known for a flavor that's both tart and sweet, shrubs stimulate the appetite while quenching thirst. Our mix of Vinegar, fresh fruit, sugar, and herbs pairs well in both cocktails AND mocktails. (Our Rosemary has been thoughtfully grown and harvested from the Terra Luna garden!)
for Shrub inspiration visit:
FUNSUNPRINT created gorgeous sun illustrated images (cyanotypes) from herbs and flowers harvested in the Terra Luna garden. Cyanotype is one of the first photographic processes! Historically it was used by one of the first female photographers, Anna Atkins, most notably celebrated for her plant photography. Cyanotypes are the perfect way to celebrate the power of sunlight!
The sky takes on shades of orange during sunrise and sunset, the colour that gives you hope that the sun will set only to rise again.
-RAM CHARAN-
Turmeric + Ginger ROOT tea. Not only does this spicy tea heat your body like the sun, it happens to boast the same golden color too!
want to learn more about the benefits of heating, stimulating herbs?
HERB INFUSED OLIVE OIL + APPLE CIDER VINEGAR
A lovely recipe to try with your oil + vinegar mix.
(There is 1 1/2 oz of oil and 2 1/2 oz of vinegar in your jar)
Ingredients
1 garlic clove , minced
1 tablespoon Dijon mustard
1/4 cup raw apple cider vinegar
2 tablespoons fresh lemon juice
1-2 tablespoons raw honey , as needed for sweetness
1/3 cup extra-virgin olive oil
salt and pepper , to taste
Instructions
Combine all of the ingredients in glass mason jar, then seal the lid and shake until the honey dissolves and the ingredients are well combined. Adjust flavor to taste, if necessary. For best flavor, allow the dressing to marinate for at least 30 minutes before serving over your favorite greens.

Store leftovers in the fridge for up to a week, and shake well before serving each time.